Your Big Day - With One Of Our Custom Destin Beach Wedding Packages
Each package can be customized just the way you want
Destin Florida Beach Weddings is your number one choice for full-featured affordable Florida beach wedding packages in the Destin Florida area.
We are a local Florida business and only book one wedding on any day so we can give all our time just to your special beach wedding day.
Our beach wedding arch setups are unique and each one can be customized with many options to fit your needs and price point.
With our beach wedding services, We Offer
Wedding minister or you can bring your own
Wedding arch setup bamboo and other setups from our packages
Professional beach wedding photography
Unlimited Free phone & email wedding support
Marriage license filing after the wedding
Weddings available 7 days a week
Many Destin beach locations to pick from
Full take down and clean up after the wedding
Optional video coverage
Destin beach Wedding Service
Your Choice Of Flower Color
The flowers used on the wedding arbor and for walkway decorations and any extra flower areas. No extra charge
White | Tropical | Pink
Add Color Fabric Decoration
Have no fabric or pick one or two colors that will be wraped around the arbor setup. No extra charge
White | Light Blue | Pink | Orange | Red | Black | Green | Brown
Pick Two Unity Candle sand colors you would like. No extra charge
White | Light Blue | Pink | Orange | Red | Yellow | Green | Purple |Teal | Hot Pink | More

The decorated walkway will have matching flowers White, Pink, Tropical or color balls. Full walkway | Shepherd hooks with color balls or flowers | Black Lanterns and more. 
Beach wedding video production services for your special beach wedding. Includes wireless mic and all editing with music and titles added.
Call for special prices based on the amount of coverage needed.
Black Lanterns for extra decorations |  Wedding video production service | Blessing stones | Family shell ceremony | Bottled water | Flower girl basket | Ring bearer treasure chest | Tiki Torches.
We accept most major credit cards, Cash and Checks
We have many beach wedding setups to pick from
Bamboo wedding arch setups with colorful flowers and green decorations.
Black lanterns, flower balls and more all for your beach wedding.
Over 20 years working weddings on the Emerald Coast we have done hundreds of beach weddings.
Have questions about your beach wedding give us a call at:
850.974.2990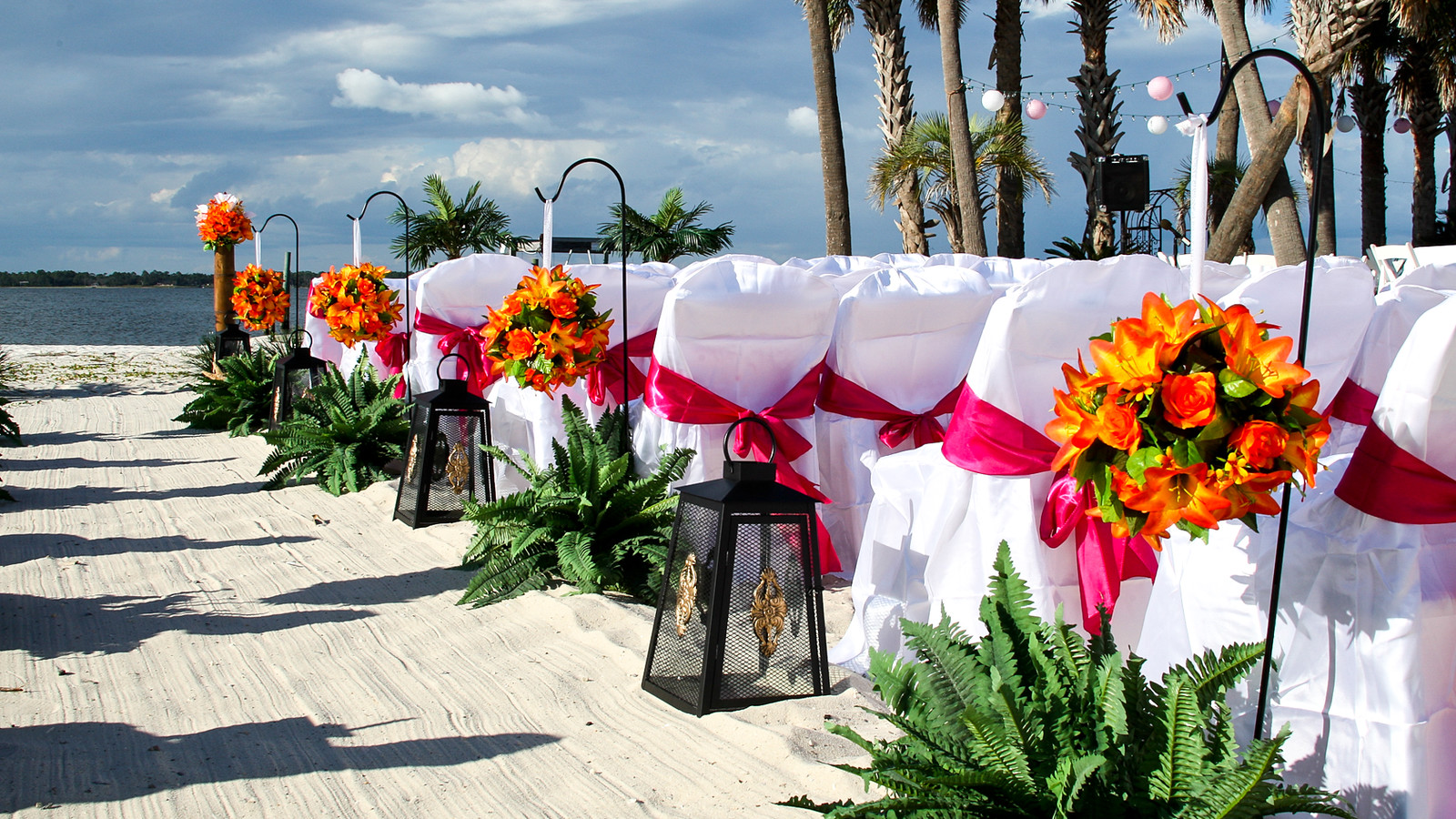 Tell Us About Your Wedding
So we can help you better plan your amazing beach wedding.
A few sample Beach Wedding Photos click to see larger view